Filet of Idaho Trout Meunière
From River Dance Lodge in Kooskia, Idaho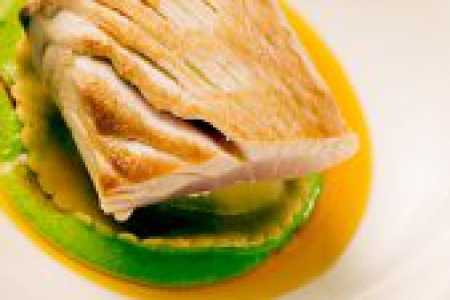 For a simple trout recipe that delivers incredible results try River Dance Lodge Chef David Amar's light and flavorful Idaho trout meuniere. Classic and absolutely satisfying, this is one dish for fish that is not only elegant, but easy to make!
Ingredients for 2 people
2 Idaho trout, gutted and fileted, and deboned
A quarter cup of unsalted butter
2 Tbsps. Of capers
The juice of 2 lemons
A quarter cup of flour
Salt, pepper
Directions
Butterfly the trout, make an incision with a sharp paring knife all along where the back bone used to be, don't go all the way through. The two filets of the trout are still attached together, but now they can both stand flat. Repeat this process on the other trout. Place the butter in a fry pan, on medium heat and let it brown slightly. Rinse the fish in cold water, and then dry them with paper towel. Place the flour in an entrée plate, and coat the trout with it. Turn your gas on medium high to high. Fry the trout skin side first in the brown butter for 2 minutes, depending on thickness. Flip and fry the other side for a minute. When both fish are cooked, remove from pan and place in a serving platter with a lip or shallow edges. Notice the cooking juices in the pan; do not discard, no matter what your doctor says, this is where it is getting good. Lower your heat to medium again then throw in the pan the lemon juice and the capers, pick up all the caramelized stuff with the lemon juice and a whisk or a wooden spoon. This is called deglazing. Cover the fish with this sauce. It is ready to serve. Enjoy your meal.
Filed in: Seafood