Hazelnut Meringue with Raspberries and Cream
From Jacksonville Inn in Jacksonville, Oregon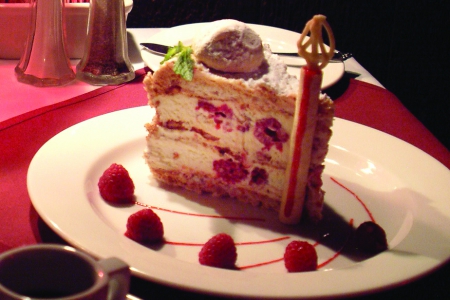 For a dessert that is as beautiful looking as it is delicious try the Jacksonville Inn's hazelnut meringue with raspberries and cream. This wonderful recipe from the Jacksonville Inn looks super impressive, but is actually quite easy to make. Innkeeper Linda Evans says it IS a yummy one for sure and has a great presentation.
Ingredients
4 egg whites
1/2 tsp white vinegar
1 1/4 c + 1 tbsp sugar
1 c hazelnuts, toasted, ground
2 c whipping cream (not ultra-pasteurized)
2 tblsp powdered sugar
2 1/2 c raspberries, fresh
Directions
Beat the eggwhites until stiff, but not dry. When whites form soft peaks add vinegar and continue beating until stiff.
Fold sugar into whites, then fold in ground nuts.
Divide the batter into 2 lightly greased 8-inch cake pans and bake for 30 minutes at 375.
Remove meringue from pans immediately and cool.
Whip cream with powdered sugar until stiff peaks form.
Fold in raspberries.
Spread whipped cream and raspberry mixture on top of one meringue and place the other meringue on top.
Dust the top with powdered sugar and voila!
Filed in: Desserts