Portobella Eggs Benedict
From Jacksonville Inn in Jacksonville, Oregon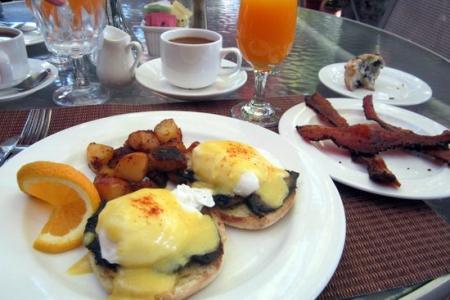 This lightened up eggs benedict recipe was inspired by the delicious portobella eggs benedict at the Jacksonville Inn
Ingredients:
4 portobella mushrooms
1 tablespoon olive oil
salt & pepper
2 tablespoons plain light or fat free Greek yogurt
4 teaspoons light mayo
2 teaspoons fresh thyme
1 teaspoon dijon mustard
1 teaspoon lemon juice
1/4 teaspoon hot sauce
1 teaspoon white vinegar
4 eggs
2 english muffins
Directions:
Preheat the oven to 425 degrees F (220 degrees C). Line a 10x15-inch baking pan with foil.
Brush mushrooms with 1 tablespoon oil. Sprinkle 1/4 teaspoon salt and pepper inside. Put in the prepared pan, stem sides down.
Bake in the preheated oven until tender, about 12 minutes.
Meanwhile, whisk yogurt, mayo, thyme, mustard, lemon juice, and hot sauce in a small bowl to make a smooth sauce.
Fill a large saucepan with 2 to 3 inches of water and bring to a boil. Reduce heat to medium-low, add vinegar, and keep water at a gentle simmer. Stir in remaining salt until dissolved. Crack 1 egg into a small bowl, then gently slip egg into simmering water, holding bowl just above the surface. Repeat with remaining eggs. Poach until whites are firm and yolks are thickened but not hard, 3 to 5 minutes. Remove eggs with a slotted spoon.
Toast 2 english muffins.
Microwave sauce until heated through, 30 to 45 seconds. Top english muffins with mushrooms eggs and warm sauce. Garnish generously with whatever spices you prefer such as paprika, parsley, cajun spice and salt and pepper.
Filed in: Breakfasts, Eggs