A collection of custom built cabins with private hot tubs and glamping tents that serve as a base camp for a wilderness experience.
In the midst of Idaho's mountain ranges and wild rivers, Betsy Bowen and Peter Grubb have created River Dance Lodge, a collection of custom-built log cabins and restaurant that serve as a base camp for wilderness experiences.

Surrounded by natural beauty, accommodations are comfortable retreats with private hot tubs, and offer solitude and quiet, punctuated by the flowing Clearwater River.

River Dance Lodge is everything from a weekend getaway to a center for family vacations, weddings, group retreats or family reunions. Renowned for their outdoor adventures, the innkeepers assure their guests an unforgettable experience by providing rafting, kayaking, mountain biking, horseback riding and more.
Amenities include: Business friendly, Children welcome, Conference facilities, Corporate rates, Fireplaces, Internet access, Pets welcome, Wedding facilities
Get the best rates and room options by booking direct!
Contact Information
For reservations call 1-866-769-8747
Phone: 1-208-926-4300
info@riverdancelodge.com
Innkeeper: Jodi Leeper
Are you a Unique Inns Rewards member?
Earn $20 every time you stay with River Dance Lodge!
Learn More
Location & Directions
Milepost 90 on US Hwy 12 between Lewiston, Idaho and Missoula, Montana. On the banks of the Clearwater River and adjacent to the Selway-Bitterroot Wilderness Area. We are a seven hour drive from either Portland or Seattle and roughly five hours north of Boise. The lodge is ideally located for those driving from the west coast to visit Glacier or Yellowstone National Parks. The nearest air service is in Lewiston, Idaho or Missoula, Montana.
Photo Gallery

River Dance Lodge: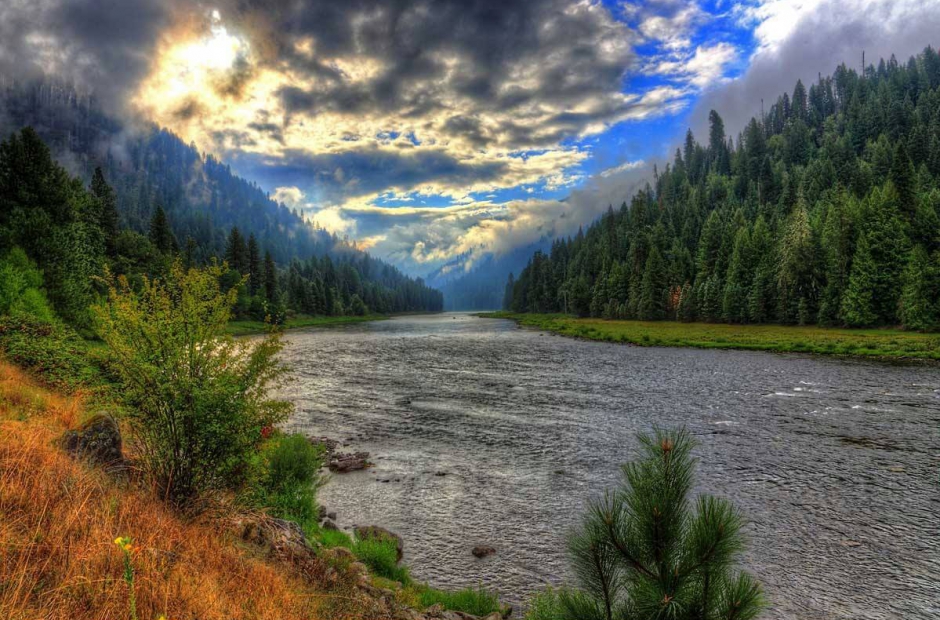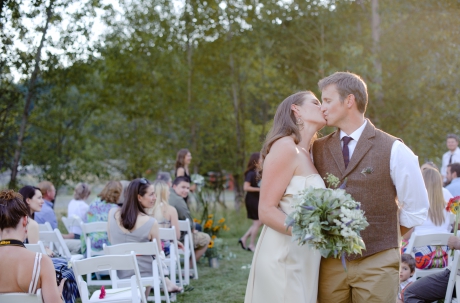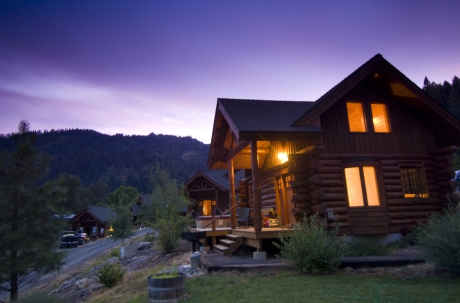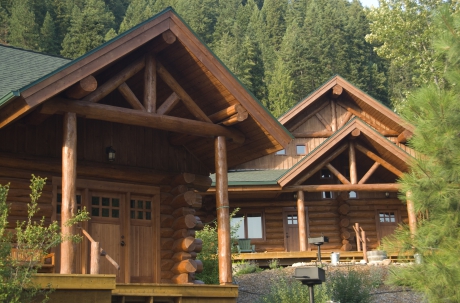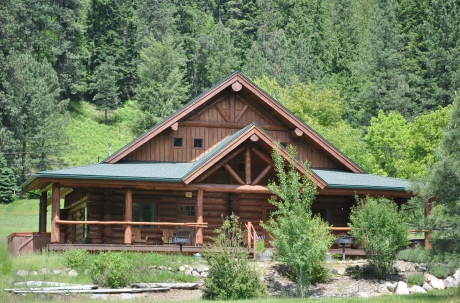 Accommodations: 8 handcrafted log cabins with 2-3 bedrooms, fireplaces and private outdoor hot tubs. Massage, meeting room, wireless internet in main lodge. Bicycles, kayaks & float tubes available to rent.. Weddings and retreats. Family friendly. Guided rafting, mountain biking, hiking and fly fishing. Pet friendly.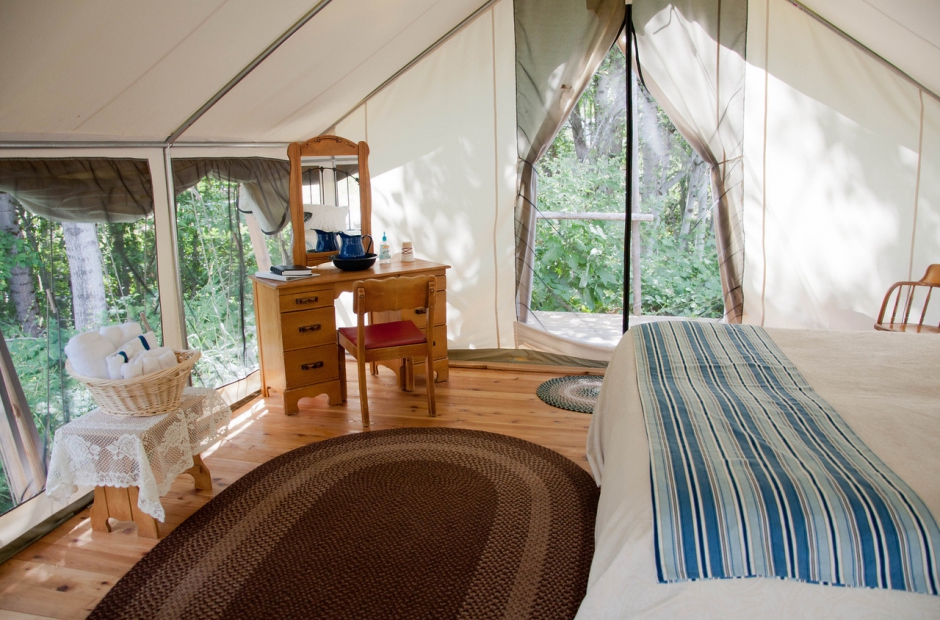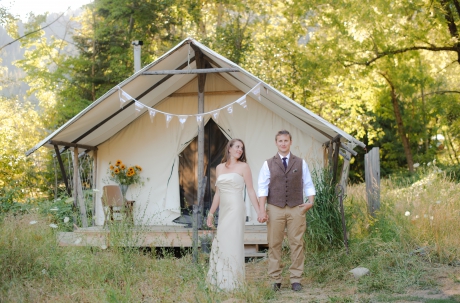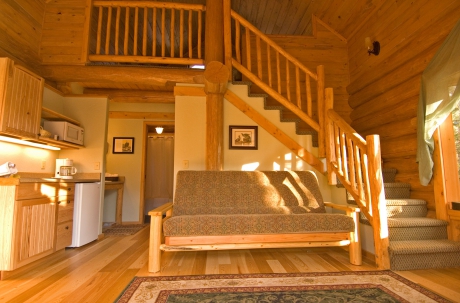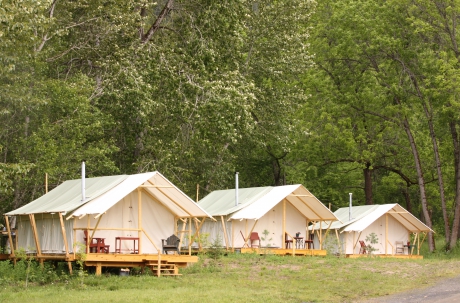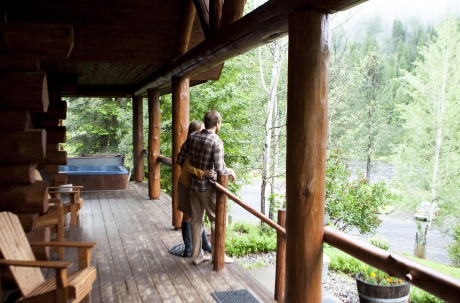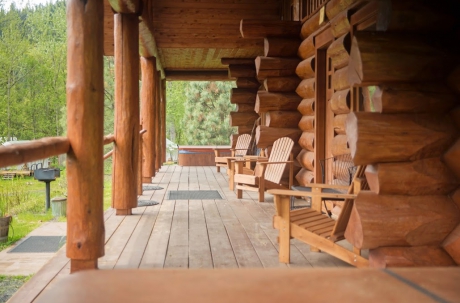 Dining: We offer dining that complements our location with our on-premise lodge restaurant called the Syringa Café, serving healthy Northwest and Mediterranean cuisine and featuring our famous homemade huckleberry pie. Breakfast available for cabin guests every day. Lunches are provided on all activities, or box lunches are available. Evenings begin with appetizers in the lodge dining room and a chance to visit with other guests. Dinner is lodge-style with a fixed daily menu with one or two entree choices and a bounty of side dishes and delectable desserts. There is an excellent regional and international wine list and sometimes, winemakers dinners. Microbrews on tap. Note that the cabins also have their own barbecue grill outside and a convenience kitchen. However most guests prefer to let us do the cooking. Our all-inclusive packages include all meals.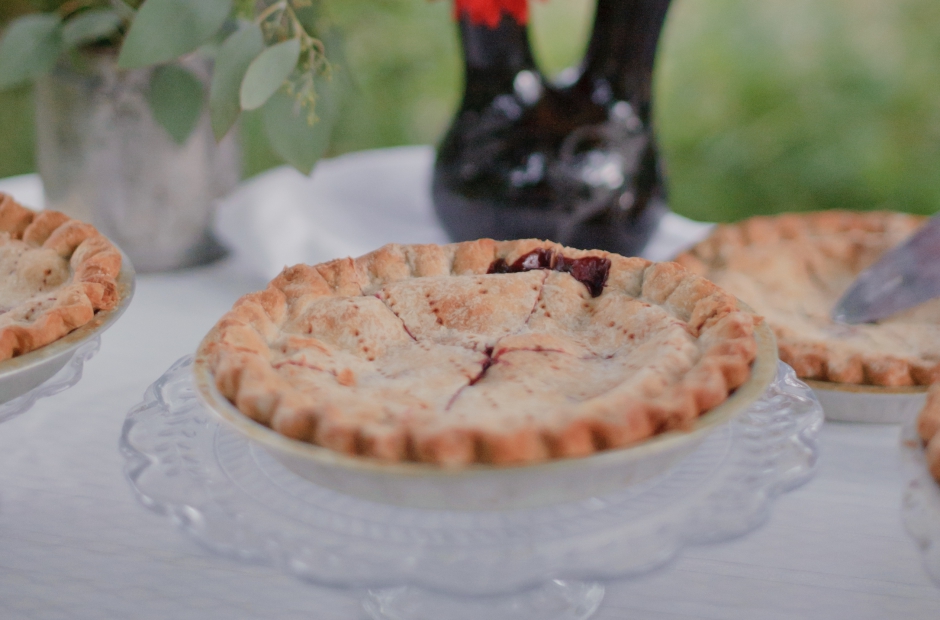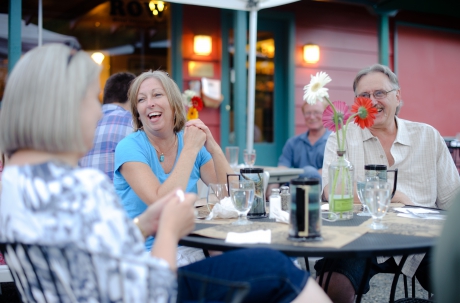 Activities: Even among our fellow Unique Inns, River Dance Lodge is especially unique. Opened in 2005, the lodge was built by the owners of ROW Adventures, an adventure travel company and outfitter based in Idaho. Thus, all activities at the River Dance Lodge are run by ROW Adventures' guides guaranteeing that your experience has a consistently high level of quality service. We offer convenient, worry-free all-inclusive packages that include your accommodations, meals and an incredible variety of activities to choose from. Or you can simply reserve a cabin and explore on your own. The nearby Selway, Lochsa and Clearwater Rivers were among the original eight rivers protected by Congress in 1968 through the Wild and Scenic Rivers Act. Activities include: - Whitewater rafting on the thunderous class IV+ Lochsa River from mid-May to mid-July. - Gentler float trips in rafts or kayaks on the Selway and Clearwater Rivers. - Mountain Biking: Explore the area on your own or with our professional guides. - Guided hikes: Learn about the natural and cultural history from our friendly, knowledgeable guides. - Fly Fishing: Fish the world-famous Lochsa on your own, or the Selway and Clearwater with our expert guides. - Excursions to explore the area's natural and cultural history with walks and gentle floats. - Explore the Lewis and Clark Trail along the Lolo Motorway. NEW IN 2015 "River Flying" – We will be offering for the first time a super-fun activity called "River Flying." The Clearwater River is crystal clear and in the summer ranges from 65-75 degrees. Guests will don masks, snorkels, fins, elbow and knee pads, a helmet and a PFD and head downriver head first. In the sections where the river is only 2-3' deep it feels as if you are flying at high speed over rocks and fish! Paddle Boarding – We will keep a few paddle boards on hand for guests to take out with or without a guide on the gentler and deeper sections of the river. History Fun - One of the most interesting historical places nearby is the remains of a WWII Japanese Internment camp that was used as a prison prior to WWII. We offer hikes to the site and then up Canyon Creek that flows by the site. In 2015 we are working with an archeologist from the Univ. of Idaho to offer a special weekend that will focus on a more in-depth study of the camp, with site visits as well as presentations at the lodge. In addition to our guided trips, we provide resources such as our "Area Walking Guide," or "Nearby Attractions" so you can get out and explore on your own. Maybe you want to take a scenic drive and walk a mile into a wilderness hot spring? Or in June drive to Selway Falls where you can see wild salmon jumping on their way upstream to spawn. Nearby towns such as Kooskia, Kamiah and Grangeville offer authentic small-town America shopping and museums. Our staff is standing by ready to make your stay memorable and life-enriching.