Watch the Explosion of the Old Faithful Geyser in California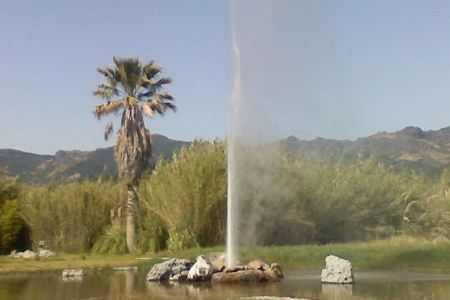 Come visit California's Old Faithful Geyser -a spectacular, nature directed performance! The Old Faithful Geyser is located at the top end of the Napa Valley in the charming and historic town of Calistoga, California. Calistoga is also home to the lovely Cottage Grove Inn. The geyser is easily accessible and is less than a 5 minute drive from the Inn.
The Old Faithful Geyser of California has become a destination for millions of world wide travelers. This California Geyser is one of three in the world with the "old faithful" designation. "Old faithful" geysers are identified as being geysers that perform at regular intervals.
The stage appears as nothing but a pool of shallow water, walled by thick bamboo and grass. That is, until nature calls, and uprising steam and bubbly hot water announce the impending arrival of thousands of gallons of water that are about to be thrown towards the heavens.
The Old Faithful Geyser of California is a wonderful place for the entire family to spend a day. Within the grounds, there is a large picnic area where visitors can enjoy lunch. The park also features a snack bar, gift shop, the famous Tennessee Fainting Goats, Jacob's Four-Horn Sheep, and Guard Llamas in a charming petting-zoo environment.