Take a Cascade Lakes Road Trip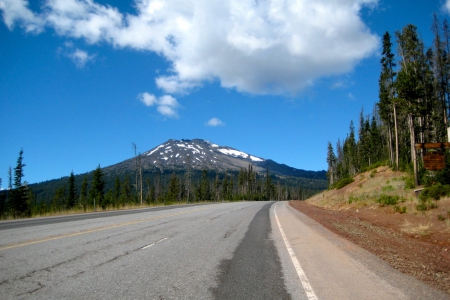 What makes this road trip unique? It's unparalleled scenery. Find the true meaning of super natural beauty as you look upon the peaks of the Cascade Mountains, 1000 year old hardened lava flows, high desert plains, thick forests, pristine mountain lakes, gentle streams and peaceful meadows. Take this Cascades Lake road trip and see for yourself why this 83 mile route is so widely renowned.
Start your journey in the resort community of Sunriver and drive 15 miles through a pine forest until you see the Deschutes River. Stop at the observation platform once you reach the river and take a look into the water for the landlocked Kokanee salmon. Then drive short 3 miles on County Road 42 and turn west where the route meets up with America's official Cascade Lakes Scenic Byway. old

Drive another 3 miles until you reach Crane Prairie Reservoir. Once there, a short trail opens to the reservoir where you can look out to a number of dead trees cradling birds' nests. From Osprey point you are likely to see some of the resident geese, ducks, otters, herons and cranes. Drive on for several miles until the road meets up with the Deschutes River once again and continue on to Three Sisters Wilderness. On your way through, you will experience breathtaking views of Mount Bachelor and other towering Cascades giants. Many recreational opportunities are available along the way including hiking, fishing, boating and picknicking. You could even stop at Elk Lake where there is a nice little sandy beach.

Heading north, you will reach Devils Hill (a heap of dark lava boulders) and Lake. Next, you will come to marshy Sparks Lake, where you can stretch your legs down a short trail and check out the nearby forested lava fields. Then, you will reach Todd Lake where you will find a side road a mile or so past the ski-are turn off that leads a half mile to another short trail that provides more dramatic views of the surrounding lake, mountains and forests. Continue driving to Mount Bachelor where you can take the turn off to the chairlift that ascends to the 9065 foot summit. Just past the information kiosk you will see a massive swath of the eastern cascades, including some extensive lava flows. After a while you will come down out of the forest on the drier east side of the Cascades and north east into Bend.
For the best accommodation in Bend: