Consume Conscious Cuisine at The Ravens' Restaurant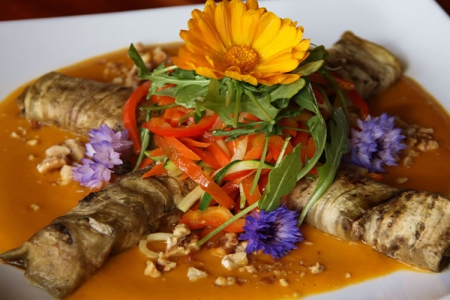 The Raven's Restaurant is located at the Stanford Inn by the Sea on the Mendocino coast in California. Inspired by the Inn's Certified Organic gardens, The Ravens' is world renowned for their outstanding vegetarian cuisine. Guests at the Inn and local residents alike, consider the Ravens' to be an essential dining experience.
The Ravens' Restaurant is actually two restaurants in itself. In the morning, the Raven's Restaurant becomes Breakfast at the Stanford Inn, and recognizing that most of the inn's guests are not vegans, an extensive variety of gourmet breakfast dishes are offered. While in the evening, The Ravens' provides elegant and innovative vegan dishes. Guests never have to go out of their way to try and eat ethically & sustainably. The Ravens' understands that people should expect more from their food and their commitment to both flavor and health has created an exceptional vegan dining experience that not only aims to satisfy the apetite, but also revitalizes from the inside out.

The Raven's features a full bar as well as a highly selective wine list that has received several Awards of Excellence from Wine Spectator andfocuses mainly on the finest local wines: mostly organic wines or wines produced according to traditional methods; without the use of synthetic chemicals, fertilizers or pesticides. Many wines are made without the use of any animal ingredients as fining agents, making them suitable for strict vegans.
For the most sustainable accommodation on the coast, stay at Mendocino's eco-resort: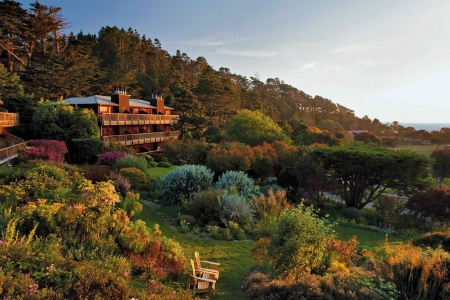 Nestled on a hillside, the exquisite Stanford Inn sits atop a meadow overlooking Mendocino Bay. Embodying the best of the rugged Mendocino Coast, the Inn is a haven. The rambling lobby, guest rooms, and suites are paneled in pine and redwood. Every detail...