Prosciutto and Bleu Cheese Salad
From River Dance Lodge in Kooskia, Idaho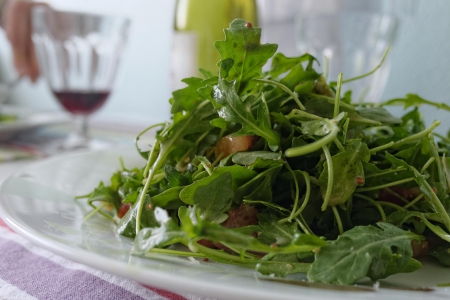 Chef Lorraine Smith's recipe for the best salad ever, discovered at River Dance Lodge's Syringa Cafe and recently featured by Idaho Magazine.
Salad Ingredients
Sliced prosciutto
Finely diced white onion
Crumbled bleu cheese
Sundried tomatoes
Directions
Lay several slices of prosciutto on a baking sheet and place in the oven on broil for a few minutes, until browned to your satisfaction. Place mixed greens in a large bowl and toss with just enough honey dijon vinaigrette to coat each leaf.
Candied Walnuts Ingredients
1 cup walnut halves/pieces
1/4 cup white sugar
1 Tablespoon butter
Optional, add a touch of cayenne to bring out the flavor even more
Directions
Place all ingredients in a non-stick skillet over medium heat for 5 minutes, stirring constantly to avoid burning. As the sugar melts, keep stirring until walnuts have been coated with mixture. Put mixture onto waxed paper and use a utensil in each hand to separate nuts before mixture cools. When walnuts are separated and cooled, they are ready to be devoured.
Honey Dijon Vinaigrette Ingredients
1/3 cup balsamic vinegar
1/4 cup peanut oil
1/4 cup olive oil
2 Tablespoons dijon mustard
1 Tablespoon honey
Salt and pepper to taste
A pinch of powdered or minced garlic
Filed in: Salads & Dressings