Syringa Blackberry Butter
From River Dance Lodge in Kooskia, Idaho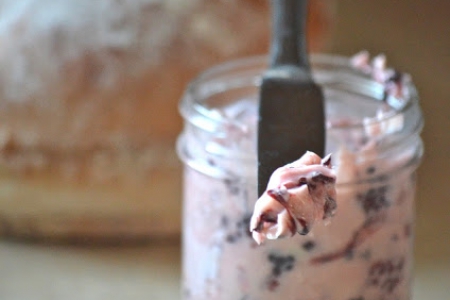 This indulgent blackberry butter is the perfect condiment any time you want to treat yourself. It also makes a great gift if you want to treat someone else.
Ingredients
1 pound salted butter, softened
1/8 cup of honey
1/2 cup blackberries
Directions
Whip together butter and honey until fluffy. Add in berries and mix in short bursts until desired look is achieved. If storing in jars, scoop into jar and wipe mouth clean. Cap and refrigerate. If storing in logs, place a piece of plastic wrap over a piece of aluminum foil the same size. Scoop out butter along length of wrap/foil, folding wrap over butter. Roll up foil around log and twist ends. Refrigerate or freeze.
Filed in: Christmas, Salads & Dressings